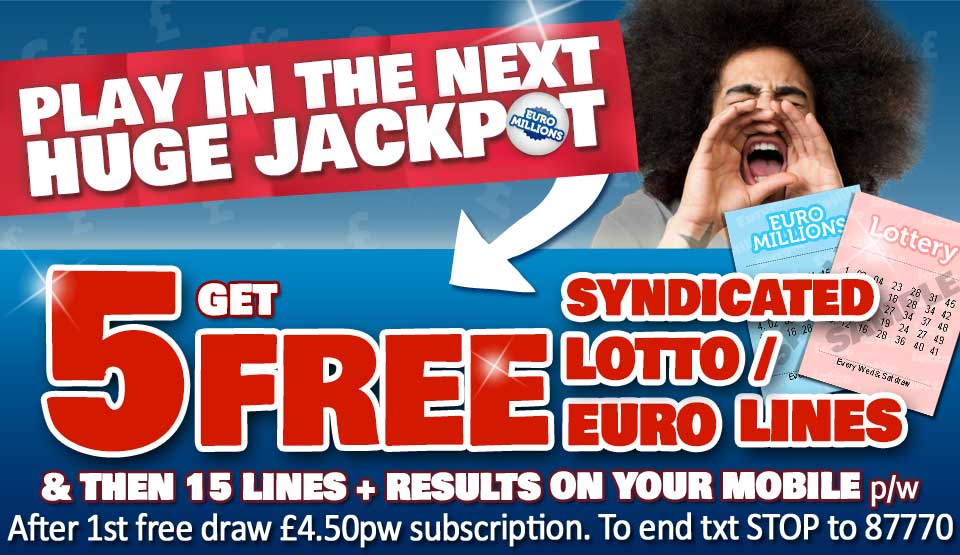 After 1st draw of 5 lines, you'll get 15 syndicated lines & draw results for only £4.50/week subscription (5 syndicated lines in each Wed & Sat Lotto + 5 lines in Fri or Tue EuroMillions) Text STOP to 85200 to end subscription. Stay for 4 weeks in any calendar month to qualify for £300 Prize Draw entry.
About Us
Bitstacker Ltd is the owner and promoter of the service which operates a mobile text alert service for the provision of the National Lottery and EuroMillions results to both your mobile and/or email account.

Furthermore, the service promotes Txtlotto's National Lottery and EuroMillions syndicate service that appoints syndicate managers on your behalf. Txtlotto Syndicate Managers purchase and assign National Lottery and EuroMillions tickets, as well as validating and making payment for any winnings claimed by the subscriber.

The service vision is to provide a fast, easy, reliable and effective way of receiving winning Numbers alerts and provide beneficial services to complement the alerts offering.

Bitstacker Ltd is an established UK company with significant experience in the gaming and mobile sectors.

Since Lotto by Text launched in 2006 the mobile lotto service has been growing at an exponential rate, establishing the service as the most innovative Mobile Lotto platform in the UK market.


How to Play
Please click the relevant link for a brief description. If you are still unclear after viewing this information then please use the contact us page to notify us of any further queries you have.
1 – How to register
Registering with the service could not be easier, all you need to do is: Put your mobile number in on the homepage Check your Lotto and EuroMillions numbers and update your details. Activate the service by texting YES to 85200. (After 1st draw of 5 Free Lines, you will receive 15 syndicated EuroMillions/Lottery lines for only £4.50 per week. To end subscription, text STOP to 87770.)
2 – How to login
To login into the Members Area could not be easier, all you need to do is:
Click on the red Members Area button in the top right hand corner of this page
Enter the mobile number you have registered to the service with
Enter any one of the claim references we had sent you
Enter the security code
Click proceed and login to enjoy our members benefits
3 – How to claim
To make a claim please take the following simple steps:
Login to the members area and click "Make a Claim" link
Follow the simple instructions explained in the process
Sit back, relax, and wait for your winnings to be credited to you via your nominated payment method
FAQs
1 – National Lottery syndicate share
Size of a syndicate is based on an Offer detailed in the Offer's terms and conditions and as such the Member's share is divided equally amongst the number of registered members within the syndicate. Txt Lotto Ltd the owner of the syndicate management service will disburse any valid claims.
2 – How Do I Pay?
If you have joined the service and elected to pay by text, you will be sent a mobile text message which automatically charges you based on the offer you have selected. Therefore, if you register to the Saturday and Wednesday National Lottery syndicated draws and results it will be £3.00 per week, and if you register to the Saturday and Wednesday AND Friday/Tuesday EuroMillions syndicated Draws  and results it will be £4.50 per week. This system is known as reverse SMS billing and is used successfully with other content providers
.
3 – How Can I Make A Claim?
Simply go to the Members Area and enter your claim reference number. If the share of winnings is less than 60p, then the claimants will be offered five additional syndicated lines in the following Saturday draw at no charge. You will be able to make a claim at anytime for up to 30 days from date of draw. We offer members two options for claim disbursement. The first option is snail mail – this is the slowest way to get a payment made. Payments are made in the form of a cheque. This method will take 5-7 working days from your claim date to when you receive the cheque to your home address. The second option is Express payment; with this method we will text a unique code to the mobile number you have registered to the service. You can then take this code to any Post Office branch where upon presentation of the code you will be credited with cash for the value of the winnings. This is the fastest way of getting your winnings and should take 2-3 working days from your claim date until you receive your claim code to your mobile phone. Please note for any prizes greater than £1,000 you will need to contact the customer services centre on 0161 850 4578 who will take you through the claims process. Any low-value prizes may be credited with a bonus offer for the next National Lottery draw.
.
4 – Can I get my Winnings and or Refunds paid back to my mobile
We cannot offer payments back to your mobile handset. Payments are made via cheque or Post Office once your claim has been accepted.
5 – What if I Change Numbers?
The service is only applicable to the registered mobile number, so you will need to stop your membership and restart with your new number.
6 – Do you randomly select numbers?
Yes.
7 – Are Lottery Syndicates Legal?
Yes. In fact the National Lottery gives advice on setting up syndicates via its website. Lotto by Text has in place syndicate agreements and has syndicate managers appointed and who are externally managed by Txt Lotto Ltd. Playing as part of a syndicate significantly increases your chance of winning. Furthermore, playing the Lotto by Text syndicate means your chances of winning have increased significantly as we use bespoke mathematical models. This ensures that our members benefit as the numbers selected have a higher likelihood of winning than randomly chosen numbers.
8 – Who provides Alerts and Tickets?
To continue, you do not need to do anything more. After each result is drawn you will receive a text and/or email informing you of the National Lottery and/or Euromillions results and your ticket numbers together with Claim Reference number for the next draw. This means you will never miss a draw again.
9 – How Can I Stop the Service?
To stop an offer by text, simply send the word " STOP " to 85200. To terminate all services provided by Lotto by Text simply text the word " STOP ALL " to 85200.
10 – How Does It Work?
Lotto by Text has partnered with Txt Lotto Ltd who appoint syndicate managers on your syndicates behalf to purchase and assign National Lottery and/or Euromillions tickets as well as validating and distributing any winnings.

Once registered, you will be informed of the weekly winning draws, straight to your mobile and/or email as they are announced so that you are kept fully informed of all winning numbers. In addition, any free draw promotion and any subsequent purchases will be sent to your mobile each week detailing your syndicate numbers and Claim Ref (Claim Reference code). Please keep this information, as you need your claim reference code to make a claim
11 – Where Can I View My Numbers?
Go to the
Members Area
and enter your member login details. Can I join more than 1 Lottery Syndicate? Yes, you can increase your chances just by subscribing to additional syndicates.
12 – From Contract to Pre–Paid Mobile?
This will not affect the service as long as you have sufficient credit and retain the same number.
13 – What if I have insufficient mobile credit?
If you fail to have credit and are paying by prepay mobile you will not receive your mobile text alerts and will not be entered for the National Lottery and/or Euromillions draw. The service will resume as soon as you have credit. This will be confirmed when you receive a text message with your numbers for the coming draw.
14 – Why Choose Lotto by Text?
The service is a text lottery alert club which notifies you of winning National Lottery and or Euromillions numbers straight to your mobile.
The service offers you the opportunity to play an online game, which increases your chances of winning the National Lottery and/or Euromillions by allowing you to play as part of a syndicate. 1 in 4 jackpot winnings have been won by Syndicates.
We are an established company with services provided on all mobile networks – Vodafone, Orange, o2, and T–mobile, Virgin and 3 Network.
15 – Who Is Eligible To Join?
To join the National Lottery syndicate with Lotto by Text you must be over 16 and be an owner of a mobile phone. You do not need to be a UK Citizen to be a member of Lotto by Text.
Past Lottery Results
Date
Main Numbers
Bonus Balls
Official
Jackpot
LOTTO
Wed 23/04/2014
16-18-29-34-35-39
40
£7.5m
Wed 16/04/2014
01-06-10-23-25-40
32
£1.7m
Wed 09/04/2014
08-17-20-32-41-43
9
£6.3m
Wed 02/04/2014
14-16-20-38-39-45
23
£2.9m
Sat 19/04/2014
13-20-31-34-36-44
11
£5.3m
Sat 12/04/2014
04-17-22-26-31-47
32
£8.8m
Sat 05/04/2014
03-07-20-31-43-45
41
£4.3m
EUROMILLIONS
Tue 22/04/2014
13-15-20-24-46
1-8
£46.7m
Tue 15/04/2014
03-14-26-47-50
7-11
£32.6m
Tue 08/04/2014
11-18-29-42-49
4-11
£17.9m
Fri 18/04/2014
21-24-31-39-47
3-7
£41.0m
Fri 11/04/2014
08-12-19-30-33
4-11
£26.9m
Fri 04/04/2014
06-10-28-45-50
10-11
£12.4m
Bitstacker Ltd. Registered in England No.8517360. VAT Registration GB 163 6240 21.
© Copyright Bitstacker Ltd. 2013. All rights reserved.